[ad_1]

These ultra easy Puff Pastry Cream Cheese and Berry Danishes are quick to assemble, quick to bake, and yield impressive results!  Feel free to use any flavored jam or preserves you like for the filling, or serve them with cheese filling alone.  I especially like to do a red, white, and blue combo for patriotic celebrations!
Ingredient Notes:
Puff Pastry – This recipe comes together quickly thanks to frozen puff pastry dough.  You can find puff pastry in a rectangular shaped box in the freezer section of the grocery store.  It's usually near the frozen desserts and is often on the very top or very bottom shelf!  Pepperidge Farm is the most widely accessible brand in grocery stores.  Trader Joes has a fantastic all-butter version that works beautifully as well.
Cream Cheese– Feel free to use full fat or reduced fat cream cheese, but avoid fat free.
Jam or Preserves – Berry flavors are my favorite, but feel free to use any flavor you like, either store bought or home made!
Step 1: Prepare Cheese Filling
The cheese filling is simple, with cream cheese, sugar, vanilla, and egg.  I like adding almond extract to mine, but a little lemon zest would be another option!  Tip: Starting with softened cream cheese and room temperature egg yolk will help yield a super smooth filling.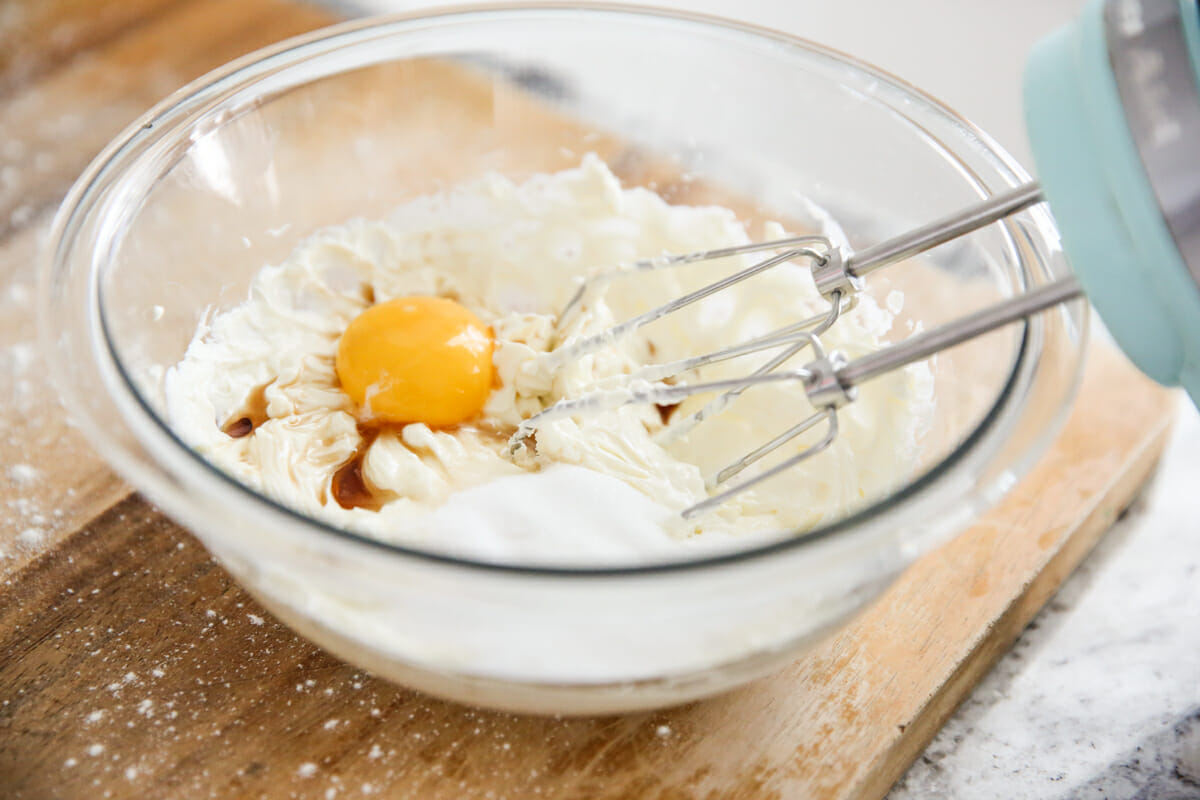 Step 2:  Prepare Pastry Dough
Roll: Make sure you thaw your frozen puff pastry in the fridge over night.  Avoid trying to rush this process. Heating up puff pastry can result in melting the butter in the dough that causes it to actually puff!  Take your dough from the fridge and unfold it onto a lightly floured surface. use a heavy rolling pin to smooth it out just a bit.  It should stretch no more than about a half-inch on each side.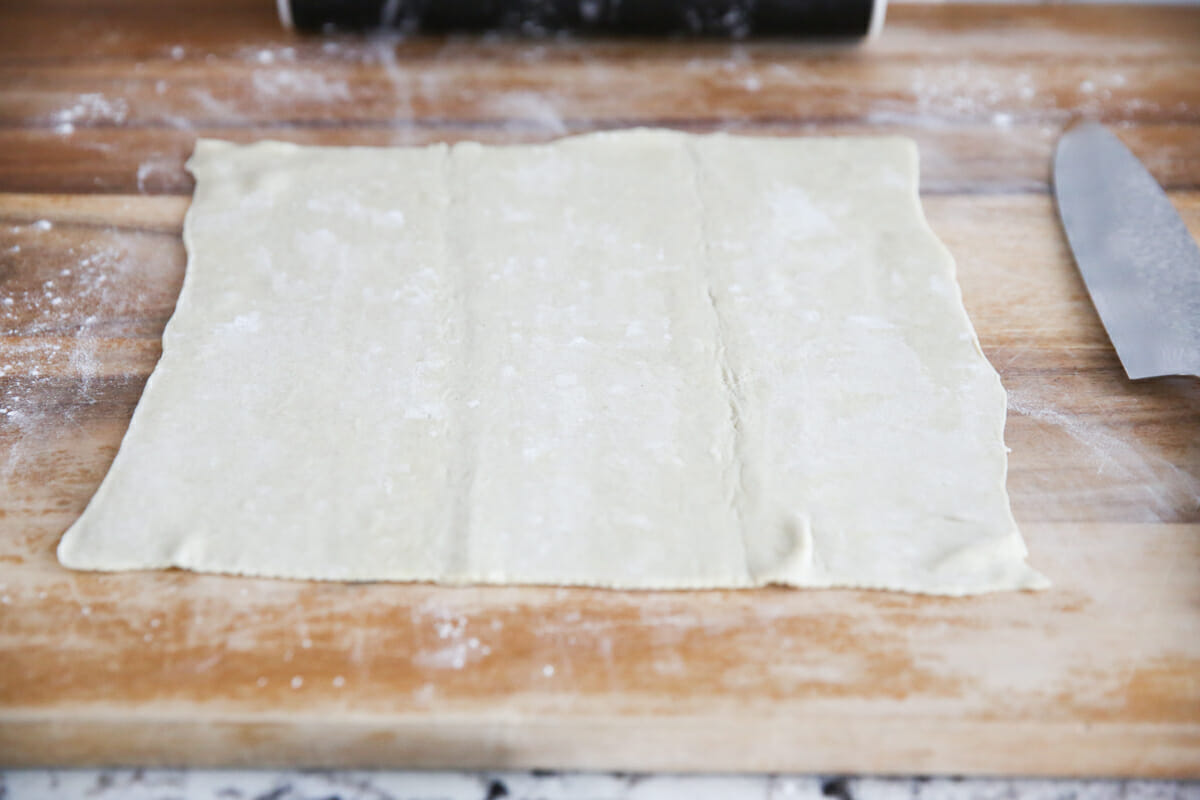 Cut: See those lines that are already there?  Just cut down those lines to divide your dough evenly into three sections and then cut again across the middle to create 6 pastries.  You could also cut each of these in half if you wanted to make smaller ones!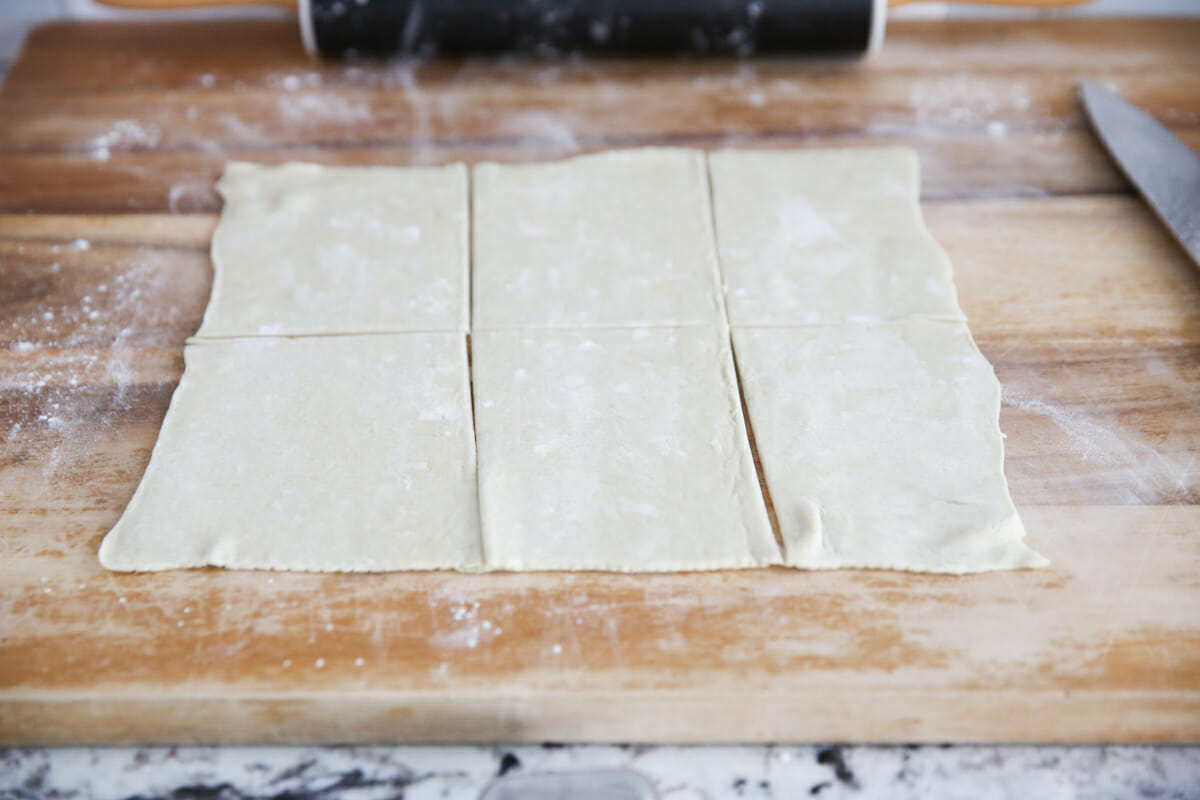 Step 3:  Assemble
Score: take a small paring knife and gently score your dough creating an outline of sorts around each rectangle.  The goal should be to not cut all the way through the dough, but if you do, that's okay.  Just try to be careful.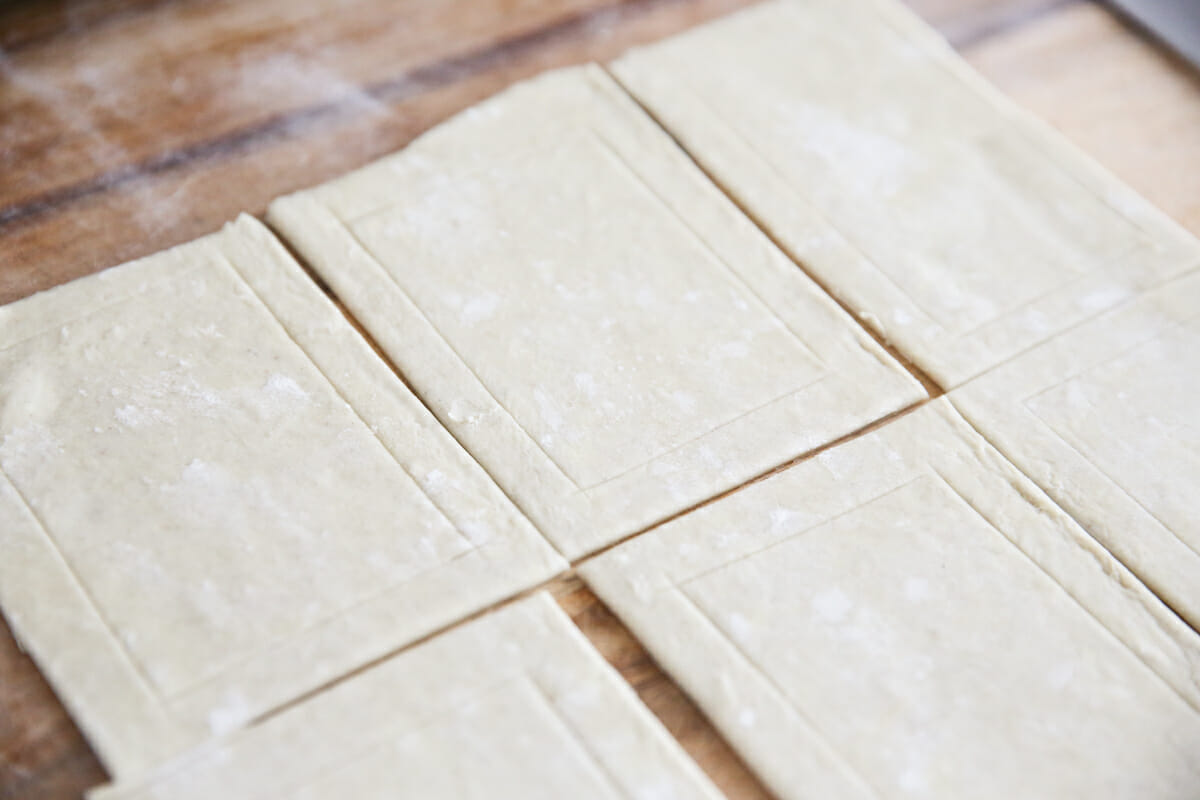 Fill:  Place a dollop of cheese filling on each square, spreading it out slightly and then place a smaller dollop of jam on top of that. You'll want to use the cheese filling as kind of a dam around the edges to hold in the jam as it bakes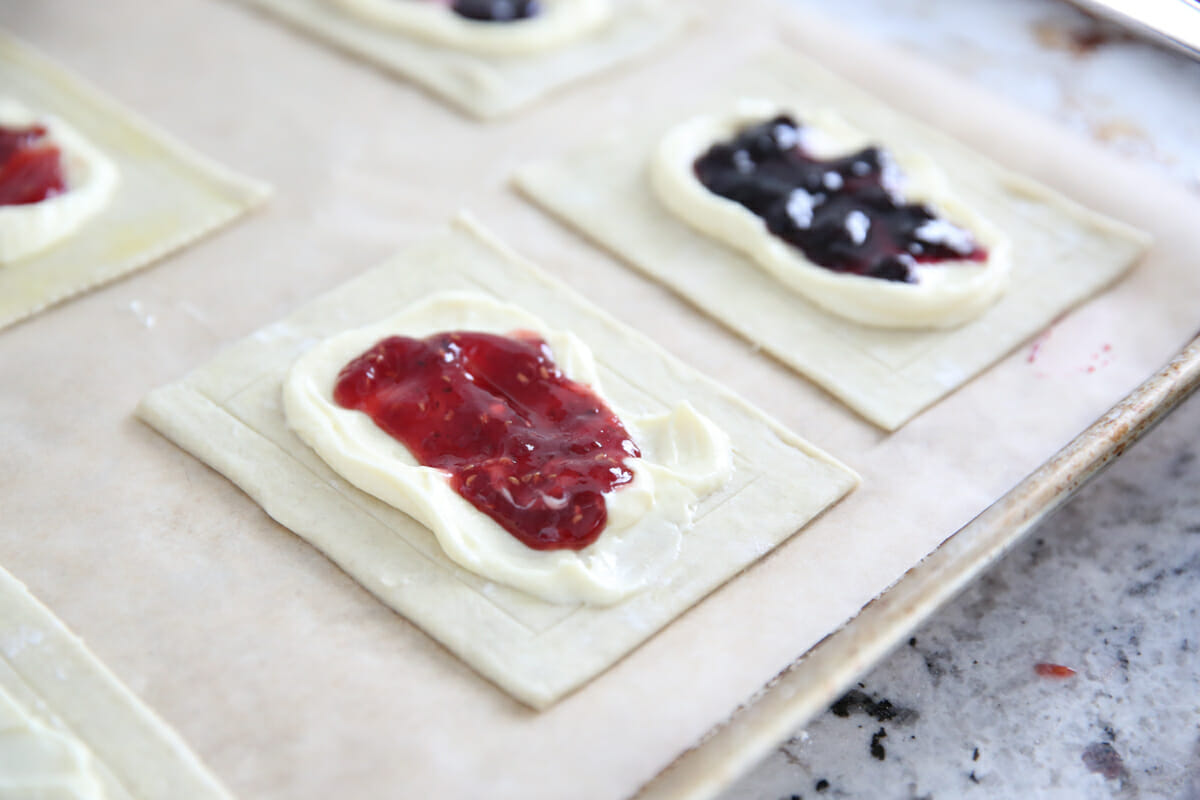 Egg Wash:  Lastly, and this step can be optional- I like to brush a simple egg wash around that outer edge and sprinkle with a little coarse sugar.  It creates a pretty, browned edge and I like the crunch of the sugar!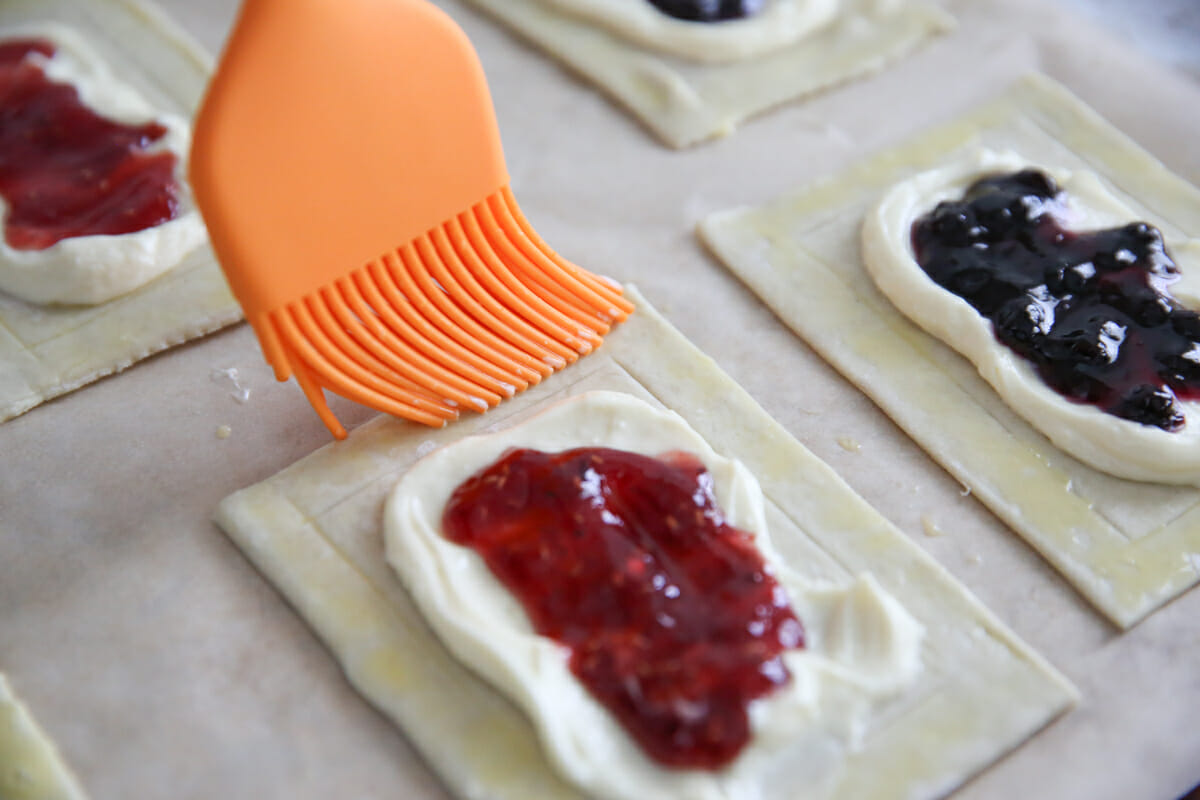 Step 4: Bake and Serve
Bake the pastries in the oven and watch them puff up to perfection.  They will sink a little after cooling and that's normal!  Place them on a cooling rack to come to room temperature.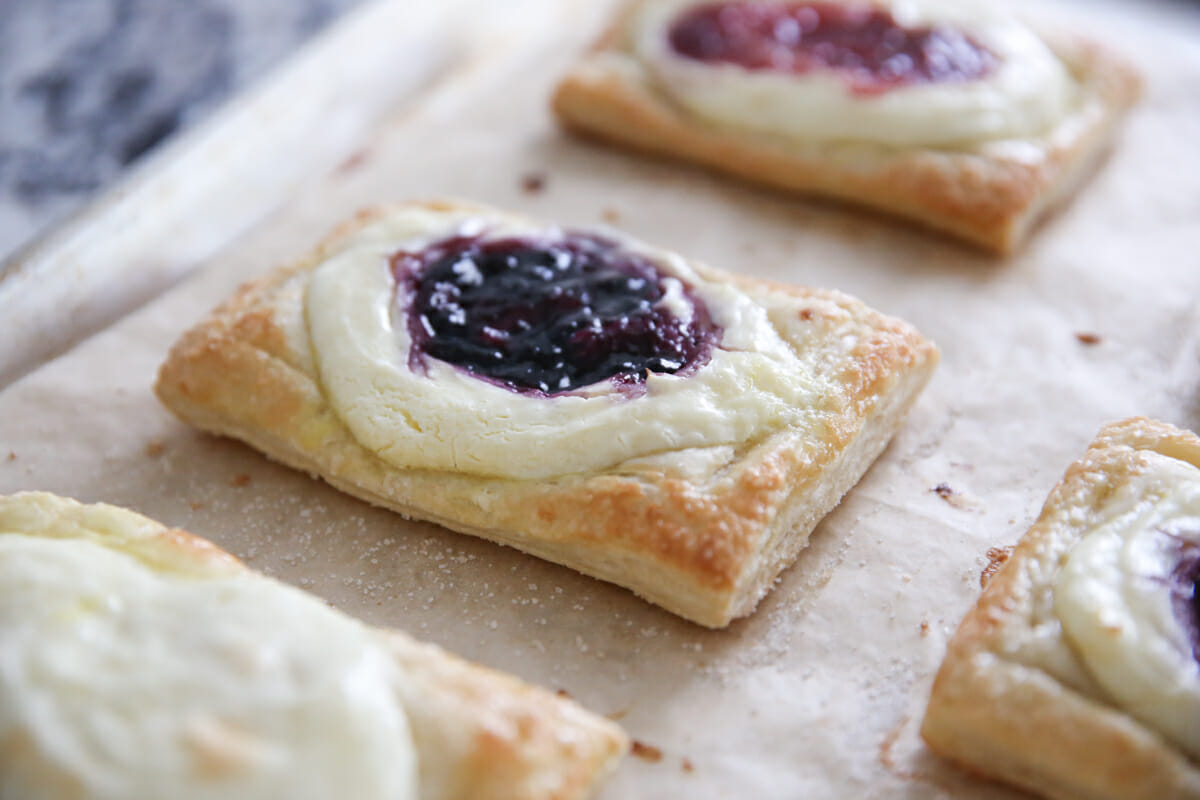 Glaze: After they cool, I like to drizzle a simple powdered sugar glaze on top.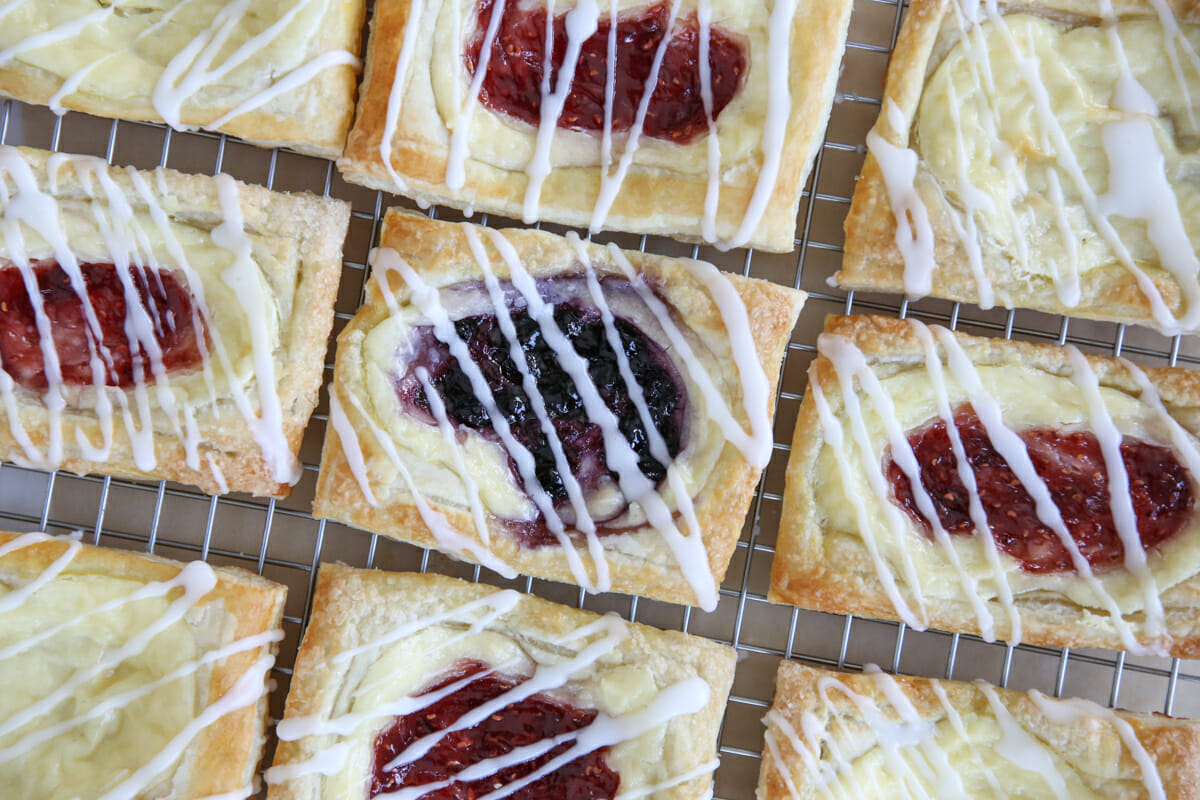 These pastries are easy, delicious, and so impressive!  If you'd like to try out something else with puff pastry dough, here's a few more of my favorite recipes:
Ham and Cheese Pastries
Pastry Wrapped Brie Bites
Apple-Cinnamon Cream Cheese Danish
Pastry Wrapped Asparagus
Coconut Turnovers
Print
---
Description
Quick and easy Danishes easily customizable with desired fruit fillings!
---
Pastries
1 standard box puff pastry (2 sheets) thawed in fridge overnight
8 ounces cream cheese, softened
one egg yolk
3 tablespoons granulated sugar
1/4 teaspoon vanilla extract
1/2 teaspoon almond extract
about 6 tablespoons berry jam
Glaze
3/4 cup powdered sugar
1/4 teaspoon almond extract (or vanilla extract)
water
Egg Wash
1 egg
2 tablespoons water
coarse sugar, optional
---
Line a rimmed baking sheet with parchment paper and set aside.
In a medium mixing bowl, whip cream cheese until fluffy and smooth.  Add egg yolk, sugar, and extracts and mix until smooth, set aside.
Remove puff pastry sheets from packaging.  Working with one at a time, unfold onto lightly floured work surface.  Use a rolling pin to very lightly roll pastry in all directions, keeping it in an even rectangle shape.  Dough should not extend more than about 1/2-1 inch on all sides.
Cut dough one direction on each of the 2 folded creases.  Cut dough just one more time the other direction, down the center, creating 6 even rectangles.  Place rectangles evenly spaced on baking sheet.  Using a knife, lightly score each rectangle about 1/4 inch in on all sides.  Do not cut all the way through the dough.
Place a heaping tablespoon of cream cheese filling in the center of each rectangle and gently spread it around slightly, but not extending over the scored parts of the dough.  Create a slight well in the center of the cheese mixture and fill with 1-1 1/2 teaspoons jam if desired.
To make egg wash, whisk egg and water together until smooth.  Use a pastry brush to lightly brush wash around outer scored edge of dough and sprinkle with a little coarse sugar if desired.
Bake at 400 degrees until pastry is puffed and edges are golden brown, about 14-16 minutes. Cool before serving.
---
Keywords: Pastry, danish, puff pastry


[ad_2]

Source link