Butter Chicken Meatballs- tender chicken meatballs are coated in a creamy tomato sauce. Flavored with curry powder and garam masala, this easy dinner smells amazing.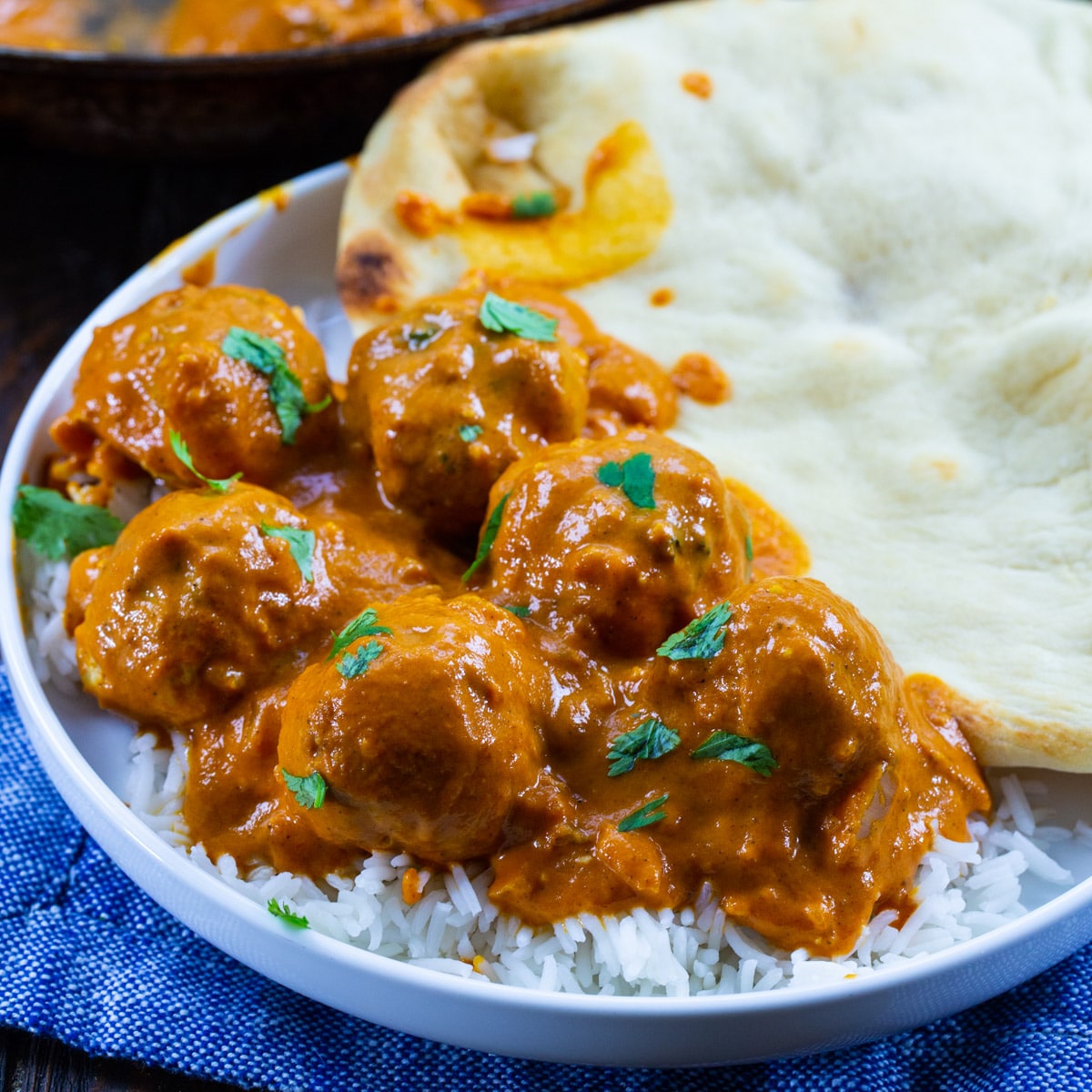 Serve over white rice with naan for an easy weeknight meal that tastes just like Indian Butter Chicken from your favorite Indian restaurant.
Indian food is something I love to eat. Unfortunately we don't have any good Indian restaurants near where I live. Occasionally I cook an Indian favorite at home like this Slow Cooker Chicken Tikka Masala, but it doesn't get any easier than these chicken meatballs.
Chicken Meatballs
You'll need 1 1/2 pounds of ground chicken for the meatballs. They are flavored with curry powder, garam masala, cayenne pepper, and cilantro. Do not use ground chicken that is too lean. I like to use 93% lean. Anything leaner produces dry meatballs.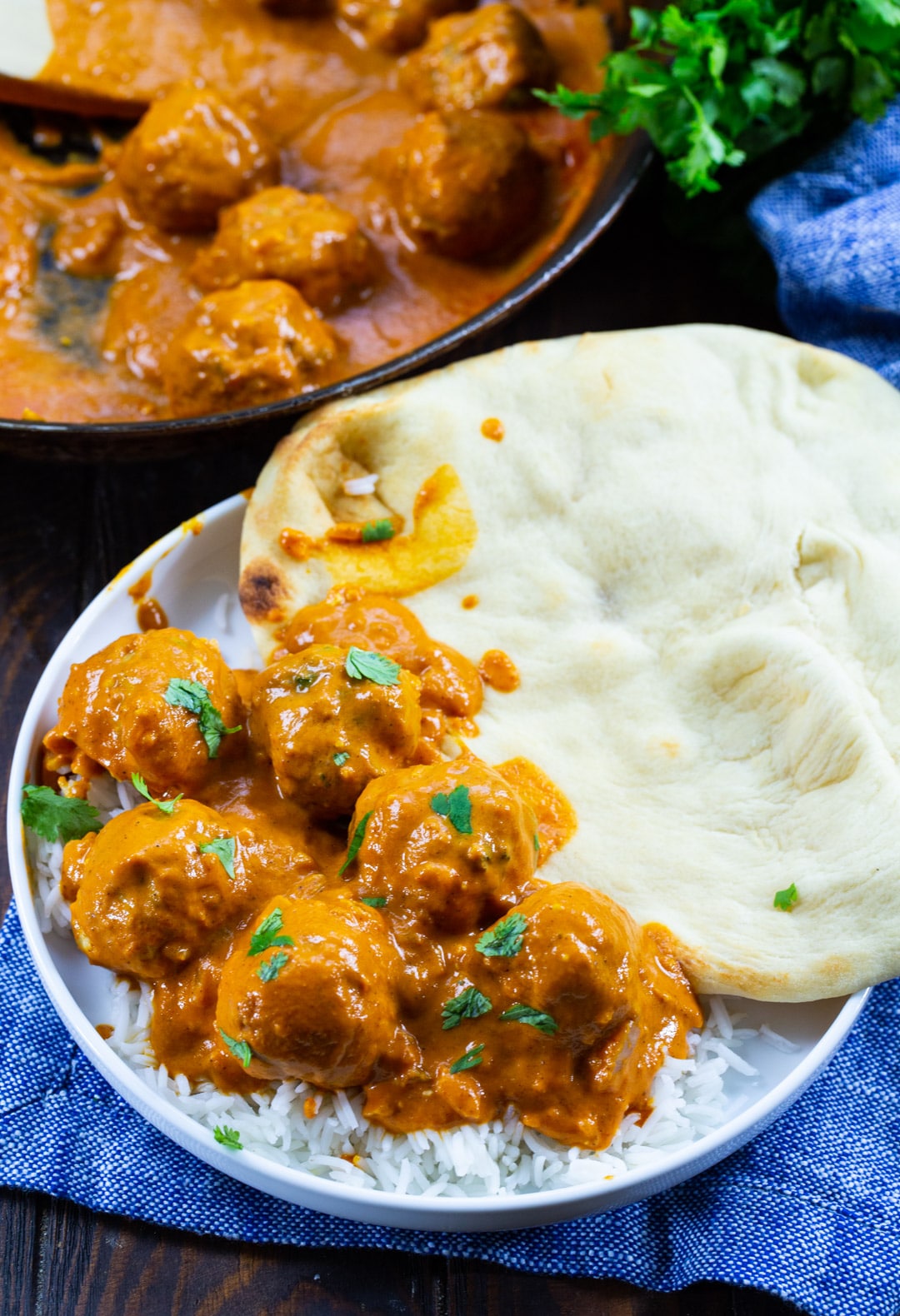 Baked, Then Simmered
The meatballs are first baked in a 425 degree oven and then simmered in sauce.
Easy Sauce
A packet of Indian Butter Chicken Seasoning makes a super easy and flavorful sauce. The only other ingredients in the sauce are butter, tomato sauce, and heavy cream.
Make Ahead and Storage
The meatballs can be mixed and shaped 24 hours in advance. Just be sure to cover them well with plastic wrap before you refrigerate them. Leftover meatballs will keep in an airtight container in the refrigerator for 4 to 5 days and can be reheated in the microwave.
Butter Chicken Meatballs Recipe Tip
Ground Turkey or ground beef can be used instead of ground chicken.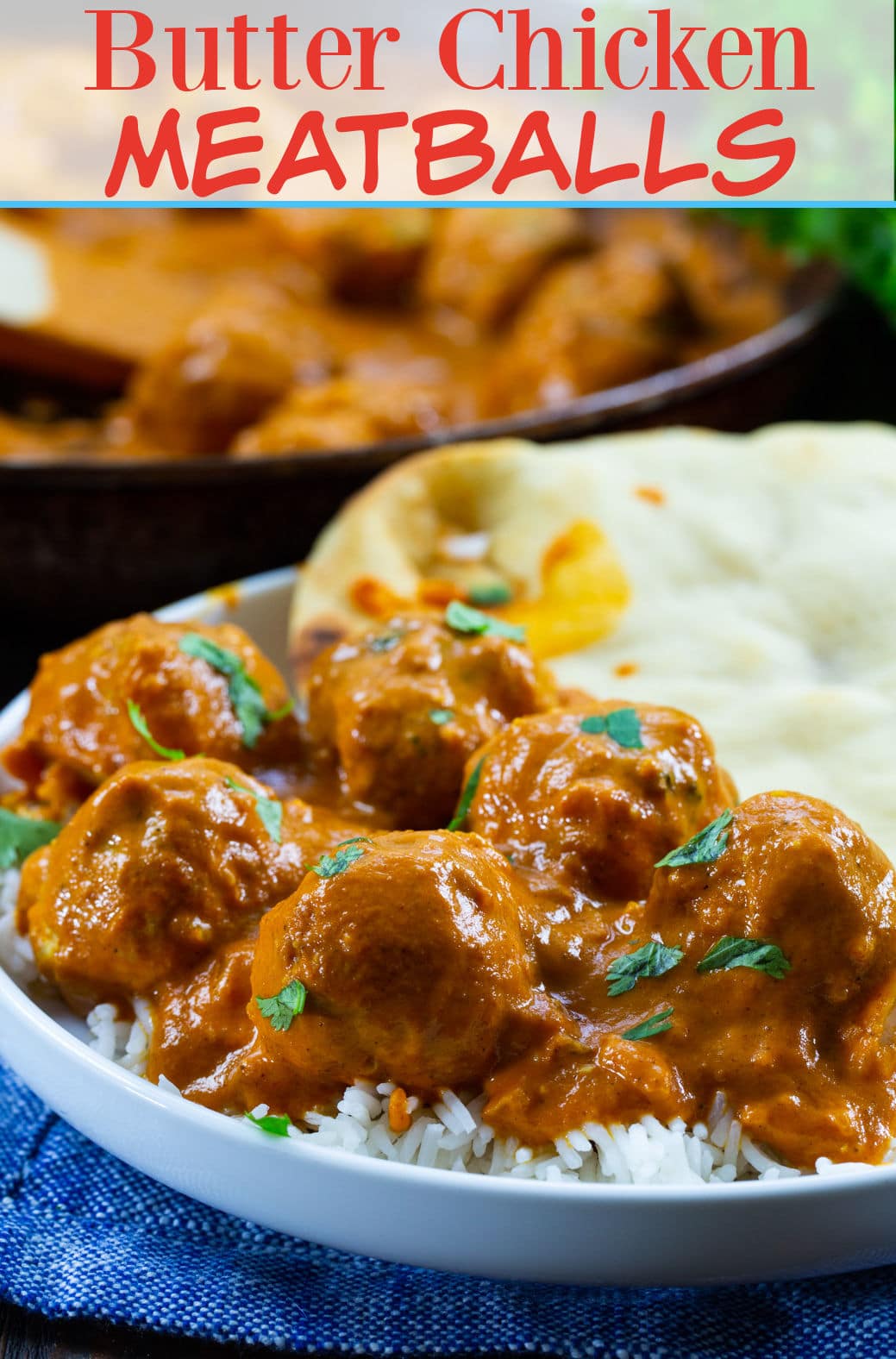 More Meatball Recipes
Preheat oven to 425 degrees and spray a rimmed baking sheet with cooking spray or line it with parchment paper.

Gently mix all meatball ingredients together in a large bowl. Shape into meatballs a little over 1-inch in diameter.

Place meatballs on prepared baking sheet.

Bake meatballs for 15 minutes.

Melt butter over medium heat in a large skillet. Add onion and cook for 3 minutes.

Add butter chicken packet, tomato sauce, and cream. Bring to a simmer.

Simmer for 5 minutes and then add the meatballs. Turn to coat them in sauce and simmer long enough to heat the meatballs.

Sprinkle with fresh cilantro and serve.
For best results, do not use chicken that is leaner than 93%.
Want to Save This Recipe?