If you've ever taken a walk around your neighborhood around meal time, you've likely experienced moments like those Khailill Knight-Papaioannou had. 
"I lived in this apartment complex amongst various cultures, people that would cook all sorts of food and you know those types of food that you smell in the air when you're walking through your front door, walking outside to check the mail and things like that," says Knight-Papaioannou. "You just can't go to somebody's door who you don't know and be like 'hey, can I have whatever that is?"
But a startup called What's Cookin' that he co-founded with long-time web developer and fellow startup enthusiast, Golda Velez, seeks to connect neighbors and community members by sharing those home-cooked meals, resources and other experiences.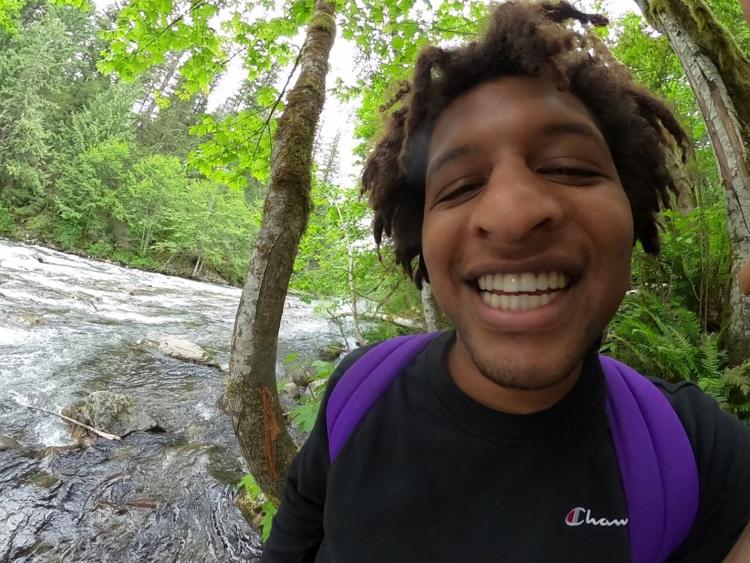 "Golda and I commonly call ourselves community organizers, just trying to get people to come together once again especially with the pandemic," says Knight-Papaioannou. "We started this in 2018 not even knowing we were going to get hit with a pandemic in 2020, so it's more important now than ever for people to come together." 
Velez came up with the idea for What's Cookin' in 2018 when she was canvassing her neighborhood to encourage people to vote and it occurred to her the last time she had reached out to her many of her neighbors was while canvassing in 2016. 
"For one thing I felt bad about that, it's like I'm only bothering you when I want you to do something. The other was that some people are happy to talk politics and some people really didn't want to hear it that way," Velez recalls. "And I was like, well that makes sense, and what do I do if I want to bring my family more together and make a better connection is — I invite them over for dinner."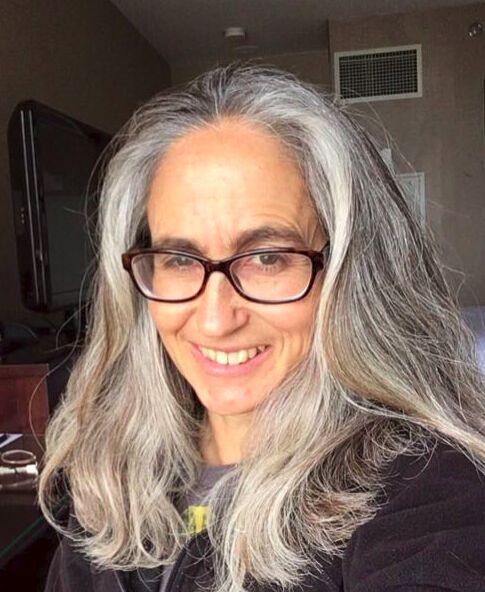 So that's what she did. And in addition to sharing a meal together, Velez asked for their input on her idea to create a platform that could help neighbors get together for dinner. She asked her neighbors to walk through what that might look like and how it would work. 
"I realized they wanted to share other than just food," she recalls."It was about one-third food and two-thirds other things and we realized we had more of a general cooperation platform here but it really originated with the idea of just bringing people together for dinner." 
Neighbors wrote down the kinds of things they wanted to share with others on post-it notes. 
"I thought they were going to put mostly food, which they did put some food but they also put book exchange, old buildings to photograph, Tuesday morning coffees, give someone a ride, driving to political rallies, hanging out with horses," Velez said while reading from the post-it note covered whiteboard she's kept over the years from that initial meetup.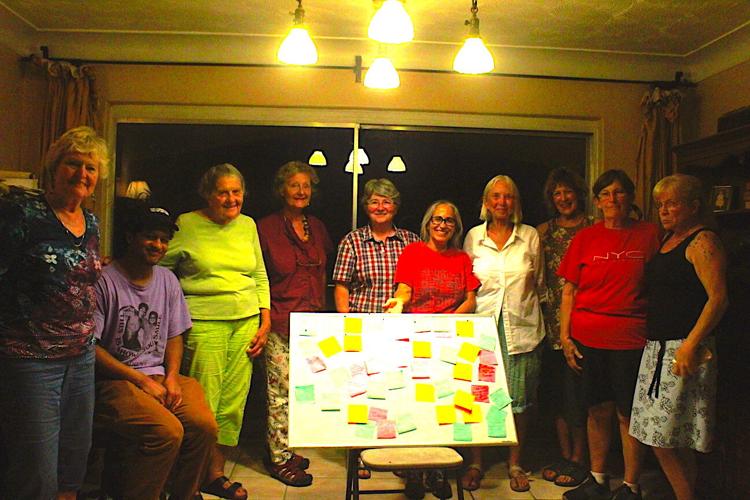 And after Velez met Knight-Papaioannou, a DJ and entrepreneur who runs a marketing and design-thinking company, they decided to team up to make the idea a reality. 
They participated in a startup accelerator program in the spring of 2019 and assembled a team of developers from all around the world to create the What's Cookin' platform, which soft-launched in Tucson in April.
So far, What's Cookin' has about 800 users worldwide and 100 in Tucson. Right now it includes a website that's continuing to be fine-tuned and an app that's being beta tested.
The platform connects users using circles, offers and wishes. 
Circles are groups that people can join or create based on shared interests or geographical location. There are Tucson and Brooklyn circles and a fluency circle where users can connect for language lessons and practice, for example. 
Users who'd like provide a resource, event or service can create an offer within a circle, include information and be contacted directly by others within the platform. There's just a few offers in the Tucson circle so far, as the platform is still new and growing. 
Current examples of offers in the Tucson circle include home-cooked meals and baked goods; and a meetup for families with young children at the Children's Museum Tucson. 
What's Cookin' also helped organize a comedy workshop for teachers and a fundraiser comedy show benefitting Tucson Values Teachers that happened June 13 where workshop participants got to share the stage with seasoned stand up comedians. 
Users looking for something not currently offered can post wishes. Recent wishes include someone who wants to learn how to swim, and someone looking to play pickup soccer. 
Maha Abduljabbar, who has known Velez for a few years, was one of the first people to join What's Cookin' and offers home-cooked Iraqi dishes. 
"Cooking is my passion and once Golda suggested it to me, I was like 'OK, let's do it, I love the idea,'" she says. "It's a great idea, it's something to connect people with each other, it gives people the opportunity to experience food and dishes from other cultures, dishes you will not find in restaurants."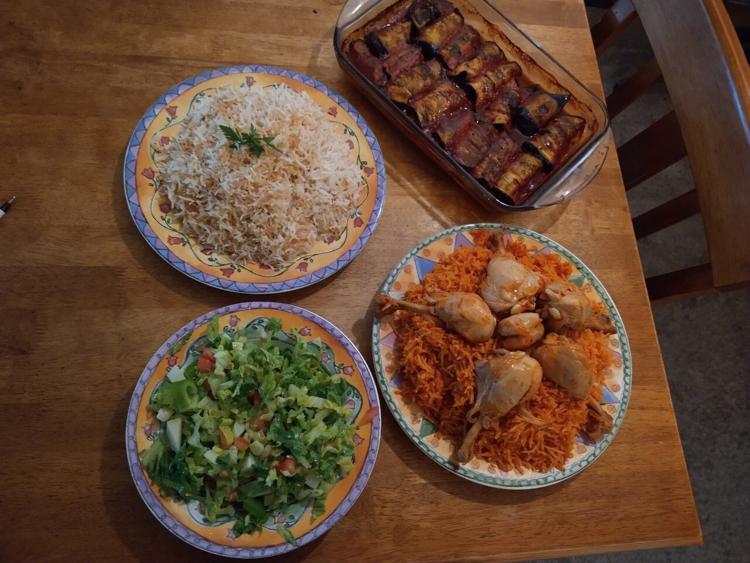 Abduljabbar is an Iraqi refugee who previously worked as a translator and says she's always cooked for family and friends both while living in Iraq and when she came to Tucson. She loves to share her homemade hummus, kebabs, maqluba, falafel, arayis and other traditional dishes with others. At one point she even considered opening her own restaurant but as a single-mom of a child with special needs she realized she could not devote the time required to start and run a restaurant. 
She says What's Cookin' has provided a way to continue sharing her home-cooked meals with others and the website makes it easy to communicate with people who have questions about her offerings. There is a suggested payment for a meal, but she says it's not required and money is donated back to social causes What's Cookin' is involved with. 
"We're being very careful, because we cannot actually sell food right now because it's illegal, we don't want to get in trouble," she says. "… All I want is for people to try my food."
Currently in Arizona only bakers and confectioners who prepare non-potentially hazardous foods are legally allowed to sell homemade food under the state's Cottage Food Program. There are licensed cooks who are part of What's Cookin' and for them, Velez says the platform is another way to sell their goods and streamline those exchanges by providing a natural language flow chat feature, a calendar to show who is offering dishes on different days and eventually a payment system. 
"We really just want to make a platform that makes it easier to do what people are already doing in terms of just chatting with each other and making those organizations," she says. 
Velez says she plans to work on advocating for legislation to legitimize home cooking and to license home kitchens, similar to California's home cooking bill. 
For Abduljabbar who has been home with her son amid the pandemic serving as his primary caregiver, she looks forward to this possibility. 
"This entire project is really important for people like me, we have responsibilities, I have this kid here I have to take care of on my own," she says. "If this becomes legal here in Arizona, this can actually offer us a source of income for people like me and we can take care of ourselves and we can also work from home and provide for ourselves and our families and I think it's a great idea."